About Seven Seas Carriers
Seven Seas Carriers AS is an independent shipping company established in 1989 and is located in Bergen, Norway.
Our company pursues the role as a project broker as much as commercial manager and disponent owner of bulk carriers. Seven Seas Carriers AS possesses all the administrative functions of a fully integrated ship owner.
Further, we also work very close with other large Norwegian investors with long established shipping traditions, who are partners in the various ship owning companies run by Seven Seas Carriers AS.
We have since the beginning operated a thorough number of ships, all bulk carriers within the handymax segment. Currently we manage a very modern fleet of versatile semi open hatch and conventional bulk carriers. The company has over the years developed a long term relationship with most major charters/ship operators.
The technical management of our vessels is delegated to Hong Kong based Fleet Management Ltd., a reputed manager with a fleet of about 600 ships.
Independent shipping company established in 1989
Vela
Diamond type, Double hull, Bulk carrier
Class: DNV
Flag: Norwegian
DWT: 53.650 mt
More information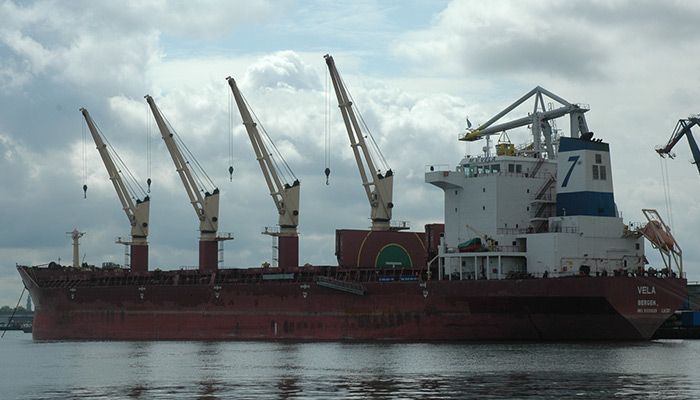 SAFE CREW, SAFE SHIPS, CLEAN SEAS
We take pride of being your sustainable Marine Partner. We have conducted our business in a healthy way, not only to our partners across the marine industry, but also to the environment during our 30 years in business. By awareness and by urge to active be a part of taking care of the environment, We, our seafarers and our vessels conduct our business in a sustainable way to make sure we pollute less.
Read more – Sustainable Marine Partner
Contact
Telephone: +47 55 23 83 00
E-mail: 7seas@sevenseas.no
For AOH contact details, follow this link
Postal Address
Seven Seas Carriers AS
P.o.box 61 Nesttun
5852 BERGEN
Norway
Visiting Address
Seven Seas Carriers AS
Østre Nesttunvei 10, 3rd fl.
Bergen, Norway
Our vessels are suitable for
steel, pipes, lumber, woodpulp, project cargoes and all normal cargoes